Malik and Seeme Hasan School of Business – University of Southern Colorado in Pueblo
Colorado State University-Pueblo has served the changing needs of the citizens of Colorado for over 76 years.  The University began in 1933 as Southern Colorado Junior College.  In 1951, the institution became the first accredited junior college in Colorado.  The Colorado General Assembly enacted legislation changing Pueblo Junior College to a four-year institution called Southern Colorado State College in 1961 and the University was accredited by the North Central Association in 1966.  In July 2001, the university was renamed Colorado State University – Pueblo.
In 1964, the Colorado Commission on Higher Education approved the Bachelor of Science in Business Administration degree as the degree for all students majoring in the business program, and the major in business management was added to the accounting and economics majors.  The Masters of Business Administration degree program was first offered in 1984.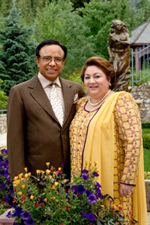 In 1995, Dr. and Mrs. Malik Hasan donated $2 million to the School, with $1.25 million as an operating endowment.  The remainder was reserved for furnishings and fixtures in the new School of Business building funded by the state.  The Malik and Seeme Hasan School of Business building was completed in 1998.  Currently the School serves approximately 825 students and employs 25 full-time faculty members.  School enrollments represent about 18 percent of the total University enrollment.
In 2004, the Hasan School of Business earned the highest level of accreditation a School of Business can earn with approval and acceptance by the Association to Advance Collegiate Schools of Business (AACSB).  The Hasan School reports annually and is reviewed comprehensively every five years for maintenance of accreditation.
Christmas comes early to USC
Dr. Hasan donates record $2 million for business school
Saturday, December 24, 1994
PETER ROPER
The Pueblo Chieftain
At podium, Dr. Malik Hasan received applause from USC President Robert Shirley (center) and Colorado Commission on Higher Education representative Robert Hawkins.
'The only way that Pueblo will get a seat at the banquet table is through education. I hope I've been able to assist that process.' -Dr. Malik Hasan
Pueblo physician Malik Hasan played Santa Claus to the University of Southern Colorado by giving it $2 million Friday to help build and endow the planned 28,000-square-foot School of Business.
The donation is the largest in the 61-year history of the university, and USC officials responded by announcing that the business school will be named after Hasan and his wife, Seeme.