Hasans embody the American Dream.
Saturday,December 24 1994 12.00 am
GAIL PITTS
The Pueblo Chieftain
'I can't tell you how many times my dad has told me that he walked into this country with nothing but 32 dollars in his pocket and a belief in the American dream.'—Asma Hasan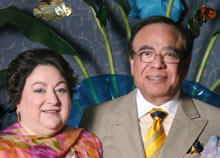 When Malik Hasan was a boy in Delhi, he asked his very wealthy grandfather why he had to walk to school when his friends were being driven in chauffered cars.
His grandfather, Shamsuddin, told him, "I'm the custodian of this money. When the Lord asks me how I used it, I want to be able to account for every penny."
It's a lesson the 56-year-old Hasan said he has never forgotten.
And it was evidenced again Friday as he explained the $2 million gift he and his family gave to the University of Southern Colorado for the business school, to be known as the Malik and Seeme Hasan School of Business.
"Hopefully, I've contributed more than I've got out," he told a joyous crowd of Pueblo business leaders and USC faculty.
Education, too, is a family tradition that owes its genesis to the same grandfather, he said.
In a Delhi where segregation was stark among Hindus, Moslems and Sikhs, his grandfather worried about his children walking to school.
So he talked the local district leaders into opening a school for girls and one for boys nearby – by giving them his own mansion and that of his son-in-law, Hasan's father.
Pueblo knows the story of Seeme and Malik Hasan well:
How the young, wealthy neurologist decided to immigrate to the United States because practice in Pakistan was shackled by a lack of equipment.
How he and Seeme, the daughter of another wealthy family, were married the same year they made the move to the United States.
How they found themselves virtually penniless because of international monetary laws.
And how he built one of the nation's premier health maintenance organizations, to be headquartered in Pueblo, their adopted home.
But Friday, the elder Hasans left it to their younger daughter, Asma, 20, a sparkly-eyed student at Wellesley College, to tell the story.
She did it with a pixie-like charm that brought the entire audience to its feet.
"I can't tell you how many times my dad has told me that he walked into this country with nothing but 32 dollars in his pocket and a belief in the American dream," she said. "He speaks fondly of his nights in a Chicago YMCA youth hostel."
Because they couldn't transfer money to the United States, "they were not well off. Neither my mother nor father knew how to cook or clean or do laundry. That is, they were hungry and needed a bath."
She pointed out that her parents have a well-known reputation for speaking their minds forcefully, "though my parents' personal corollary to the practice of free speech is that it does not extend to children when dealing with their parents."
That remark brought a chuckle not only from the audience, but from her sister and brother, Aliya, 23, a student at New York University medical school, and Ali, 14, who attends the Groton School in Connecticut.
And she reminded Southern Colorado that her father "was the only physician to seek out a practice in Southern Colorado. Twice a week, he would drive to Canon City, La Junta, Lamar, Walsenburg, Del Norte, even Alamosa.
"Now we have the opportunity to serve our entire community, share our prosperity with all of Southern Colorado," she said as she announced the formation of The Hasan Family Foundation "to fund educational, health and artistic endeavors in Pakistan and the United States."
The majority of the funds will go to Southern Colorado and Pueblo, she pledged, and said the family will "increase funding towards the foundation so that the foundation can give more and more every year."
Four of the immediate family will serve on the board, which Ali will join when he's 21, she said. "Embracing the best of Pakistani and Southern Colorado culture, Ali will eventually `quarterback' this foundation."
Other speakers spoke of earlier contributions of the Hasan family to the community, the day-care center at Parkview and the Colorado Music Fest at USC.
And they also commented on the closeness of the family.
That comment was unneeded.
All a spectator had to do was see a beaming Seeme Hasan watching her daughter and the hug Malik Hasan gave Asma when she finished her remarks:
"Our dad always reminds us of how hard he works for every dollar. As a result, we wanted to give to an institution that would spend with just as much thoughtfulness, care and sincerity."